Our ambition
Achieving a smart, green and integrated transport system is key to sustaining and developing the economic, social and environmental vitality of urban Europe. Within this context, the challenge is to deliver a practical and consistent approach that enables the synergetic integration of spatial development with investments in infrastructure across all relevant scales. This integrated NUVit approach aims at an adaptable, sustainable and future-proof transport network that delivers optimal conditions for accessible, safe, economic viable, vital and connected functional urban areas.
In this perspective, our ambition is to create a continuously expanding network of active participants to strengthen international cooperation and knowledge exchange regarding the NUVit approach.
Based on group discussions with international experts, the basic framework of NUVit has been developed and validated. The framework distinguishes six dimensions: spatial, network, temporal, value, institutional and implementation. Although many other categorisations are possible, we consider these six dimensions being characteristic of land-use and infrastructure planning. The value of the basic framework is the synergetic integration of these six closely related dimensions. Vitality is the heart of the model.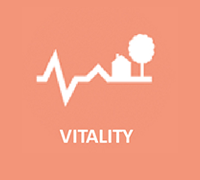 An integrated approach towards these dimensions can reveal synergetic aspects that may go beyond the sectorial project scope. These effects can influence the economic, environmental and social vitality of the region. NUVit stands for an integrated approach, in which vitality is discussed consistently during the planning process.
Five types of challenges in the field of land-use planning and infrastructure planning, as described by NUVit, can be identified in a broad number of regions across Europe. These typologies are the outcome of three TIILUP/NUVit prologue workshops and an assessment made by the core group.